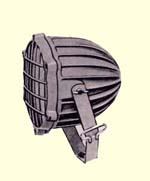 Application: Zone -2 increased safety type "e" & restricted breathing type as per IS: 6381-72 & IS: 8224-76
Protection: IP - 65/66 as per IS : 2147 - 62.
Certificate: C.M.R.S. No. V/1/5/ dated
Material: AL. alloy LM-6./ C.I.
Terminals: Vibration proof / antiloosening type of suitable rating.
Earthing: One each Internal & External.
Labels: Label & Tag Plate provided as required.
Mounting: Suitable for wall or structure mounting on bracket having drilled hole.
Cable Entry: 1 NO. Of 3/4" ET max upto 1" ET on request.
Thread Forms: Std. Threads will be ET/ BS Con . other threads like NPT/BSP , ISO PG or equivalent made on request.