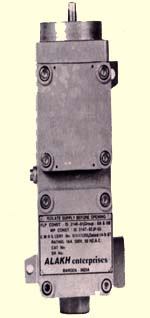 Application: Zone - 1, Gases & Vapours of Group I, II & IIB as per IS:2148-81 Ex-d
Protection: IP - 55 as per IS : 2147-62
Certificate: C.M.R.S. no. V/1/1/1255 dated 14-9-87
Material: Al. alloy LM-6., C.I. on request.
Terminals: 4 way, 15A Terminal strip
Earthing: One each Internal & External
Wiring: PVC insulated copper conductor of suitable ratings
Labels: Label & Tag Plate provided as required.
Mounting: Suitable for wall or structure mounting on cast Integrated Lugs having drilled hole of 8 Dia.
Paint: Epoxy POWDER COATED of shade 631 externally or as required.
Cable Entry: 1 No. of 3/4" ET at bottom & 1 No. of 3/4" ET at side.
Perfect Lever Arrangements: