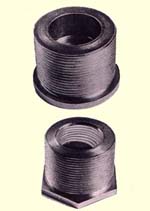 Application: Zone - 1, Gases & Vapours of Group I, IIA & IIB as per IS:2148-81 Ex-d
Protection: IP-55 as per IS:2147-62
Certificate:
REDUCER: C.M.R.S. no. V/1/1/1252 dated 14-9-87
PLUG: C.M.R.S. no. V/1/1/1253 dated 14-9-87
Material: Bras nickel plated. Mild steel, Stainless steel, Aluminum available on request.
Thread Forms: Std. threads will be ET / BS Con. Other threads like NPT/BSP, ISO, PG or equivalent made on request.